There are plenty of things you might want or need for a newborn baby. With so much 'stuff' there is a lot to think about and plan. Some of the things you come across may not be needed, wanted or even necessary. One of which is baby swings, so are they worth buying?
Baby swings are worth buying if you do not have a bouncer or any other type of chair, it may be that your baby doesn't like any other movement in which these are worth buying. They are not worth buying if you already have a bouncer or playmat.
Baby swings are a great item to have if you are looking to keep your baby entertained and stimulated. In this article, I will talk about the advantages and disadvantages of baby swings if they are worth buying and if they are worthy purchase.
What Does A Baby Swing Do?
Most parents understand that nothing compares to the peace, relaxation, and distraction that movement provides for their children. Baby swings do help to soothe your baby by keeping your baby entertained, distracted, and relaxed while you get the much-needed break you've been longing for or as you get things done around the house.
If your baby is always crying and fidgeting, you can invest in a baby swing. Its calming motion will relax and soothe the infant, putting them to sleep. While they are awake, a baby swing will entertain your baby, giving you time to relax or get some chores done.
In addition, baby swings are fun, and while your little one is in the swing, your baby develops its senses of hearing, sight, and touch. Moreso, baby swings are entirely safe to use.
How Does A Baby Swing Work?
Baby swings have become a popular choice for many families, and they are well known for being an effective tool for putting a baby to sleep or the general soothing of the baby. But how do baby swings actually work?
Baby swings, simply defined, produce the same back and forth movement that a baby experiences in the womb and then again while in the arms of a mother. This rhythmic movement is soothing to infants and comforts them, especially to those three months and below.
Baby swings have developed as the times have passed. They were hardly more than suspended chairs with a level on one side a few decades ago. Mothers would put their fussy newborns within the fabric seats of their baby swings, spin the cranks and watch their babies swing back and forth. With limited innovation, there was no regulation to the swinging.
Now, babies may not only swing at the touch of a button, but mothers can also select between relatively mild gentle swings and a more noticeable back and forth movement.
Most baby swings have different types of motions. Knowing your baby's preference helps you soothe him better. These different motions may include:
Swinging
Most babies like the swinging movement. They enjoy the head-to-toe motion. This mimics the movement of the womb swing movement and makes them feel relaxed.
Vibration
Baby swings have vibrating motions. When infants become restless, gentle vibrations help them to calm down.
Bouncing
Baby swings also offer bouncing choices for your baby. Bouncing make napping more enjoyable for an infant. In addition, you may convert the removable seat in a baby swing into a bouncer.
Cradling
In addition to bouncing, vibrating, and swinging, some baby swings include cradle-like action. Cradling does rock your infant. Most babies find slow and gentle movements like swaying so much soothing.
Cradling is typically such movement and tends to support your baby towards learning how to crawl and move. This further implies the importance of you acquiring a baby swinger.
Rock Like Movements
Some baby swings include removable swing seats that may be converted into independent rockers. Rocking movement may help your kid feel more playful. It comforts and soothes them.
Canopy
This gives your baby smooth movement and produces the ambiance they need to get asleep.
Apart from the motions, baby swings also come with a lot of accessories to keep your little one engaged and entertained. One of the accessories can be an inbuilt music player. It enables you to play various rhymes and melodies to keep your infant entertained.
In addition, baby swings may have hanging toys with dancing lights to keep your baby occupied. You can visually engage your baby with vivid lights and hanging rotating toys. Furthermore, this also helps develop a baby's motor skills.
Baby swings also have USB ports to plug in a device and play favorite music directly for your baby while enjoying the swing.
To sum up, how baby swings work, traditional baby swings were operated by hand crank, but with modern innovations, baby swings now come with batteries as their power source. In contrast, some swings need to be plugged in directly from a power outlet.
How Much Does A Baby Swing Cost?
The price of a baby swing varies depending on the type, features, and quality of the swing. However, most baby swings range in price from sixty dollars to two hundred dollars.
There are basically two types of baby swings, portable baby swings, and standard baby swings. Portable baby swings tend to be less costly than the standard baby swings as they have fewer features.
The most common baby swings and their prices include:
4moms MamaRoo 4 Baby Swing
This baby swing features five different movements and speeds that mimic what babies are used to.
It is a high-tech baby swing, having Bluetooth compatibility and an inbuilt sound system with an mp3 plug-in. The seat reclines in various settings, allowing the baby to rest back and relax or sit up and play.
The 4moms MamaRoo baby swing cost around £220.
Fisher-Price Sweet Snugapuppy Baby Swing
This innovative cradle n swing by Fisher-Price takes common or standard features and improves them with high-tech advancements.
Not only does it rock back and forth, but it comes with six-speed and four motion settings that you can customize movements to best suit your baby. It will cost you around £130 for this baby swing.
Graco DuetConnect Swing And Bouncer
This baby swing has a detachable seat that can convert into a baby bouncer.
This swing features a large seat to spread out in and ample head support to keep your newborn comfortable. It also includes two vibration speeds to keep your little one calm and happy, as well as six swinging speeds.
This baby swing costs around £120.
Ingenuity Cozy Kingdom Portable Baby Swing
This baby swing has six quiet swing speed settings.
In addition, the baby swing comes with a comfortable reclining seat that reclines to different angles.
The ingenuity cosy kingdom swing price ranges from £50 to £60.
What Age Can Baby Swings Be Used From And To?
Baby swings are seats or swings designed for infants and toddlers. You may be wondering when your baby is old enough to be put in a baby swing, especially if you are a first-time mother. Is your kid too young for a swing?
If your little one can support their head and does not sag too much in the seat, you can put them in a baby swing. The majority of babies gain stable head control from around four to six months. However, you can also put newborns in a baby swing. For such babies, their swing should be fully reclined so as not to restrict their breathing.
One baby swing that is most suitable for babies younger than four months is the Graco DuoGlider baby swing. This baby swing can change into a fully reclined baby seat for newborns.
At what age does a baby give up the swing? Most infants at around six to eight months of age may start leaving the swing. At this age, babies tend to be more curious and investigative. At around eight months, your baby should be getting ready to start crawling and walking, and playing with toys on the floor.
However, there are no general age limits that apply to all baby swings, as each baby swing model has its specifications, primarily based on weight rather than age.
Are Baby Swings Safe For Babies To Nap In?
According to the American Academy of Pediatrics, they recommend babies should always be laid flat on their backs while sleeping. In addition, they should only sleep on a firm safety-approved mattress with no loose beddings or objects close.
There is a greater risk of suffocation when babies are permitted to sleep in a baby swing. Most baby swings do not fully recline and have loose padding, which is unsuitable for babies to sleep in. You should only use baby swings to lull your baby to sleep. Once they fall asleep, move your baby to their crib.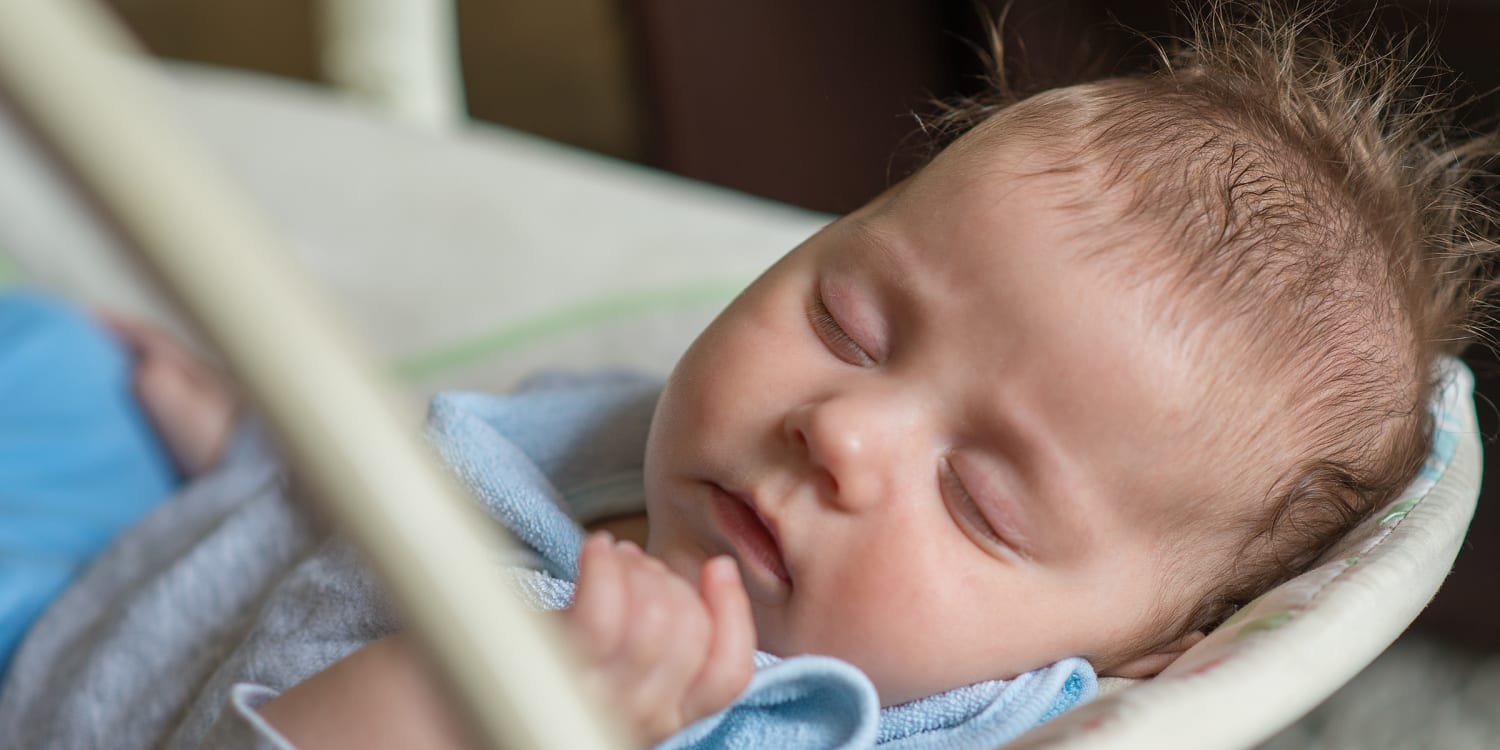 When a baby sleeps in a swing, the risks involved may be like positional asphyxiation, where, while sleeping in a swing, your baby's head can flop forward, obstructing their air passage.
Other potential hazards include your infant turning their head and suffocating against the soft cushioning, being caught in the straps, or rolling over in the swing. Although parents mainly utilize the straps correctly, sometimes your baby can still roll.
However, many infants may find it hard falling asleep in a flat still crib but will sleep well in a carrier. Some parents may leave their babies to sleep in the swing as they may believe that an inclined position can ease the symptoms of acid reflux in babies.
If you leave your baby to sleep in their swing, you should acknowledge the fact that it is dangerous and your infant requires constant supervision. Look out for things like symptoms of respiratory distress such as color changes or loud breathing, as well as their head flopping forward.
How To Save Money On Baby Swings
A baby swing is an ideal acquisition for any parent, but that does not mean you should spend more money than you need on one. You don't have to go overboard with your spending.
Look at your baby's preferences before getting one. For example, you might be getting an expensive baby swing, priced at £200, paying for a lot of extras that your baby doesn't need. On the other hand, baby swings like the Ingenuity cozy kingdom portable baby swing offer much for less than sixty pounds.
To save on costs, consider buying baby swings in major baby stores with a standard price than other retail stores that may be pricey.
Baby swings are a boon to any parent, they enable you to get that much-needed break. They are an excellent tool for soothing babies. Babies love to be rocked, they love the movement, and it helps to calm them down. A swing is an excellent tool for a mum to utilize when she has a baby that enjoys being swung and rocked. To sum up, a baby swing though optional is worth having.
Look at buying second hand in places such as Facebook Marketplace, eBay or Gumtree. You can find a number of used in good condition that you can use for your baby.
Is A Baby Swing Worth Buying?
Baby swings are worth investing in if you do not already have a bouncer or playmat that your baby likes to be on or in. They are worthwhile to help soothe a baby that needs a little extra movement and care compared to just being put down. They are great for parents who are looking at doing more independent things such as showering, working or even household chores.
You may find baby swings not worth while if you already have a bouncer or other entertainment system for your baby to play with and do while you do your independent tasks. You may also find them unnecessary if you do not have much space in your home or room in the budget for such a device. Compared to bouncers which are significantly cheaper than swings.