The arrival of a new baby in the family is one of the most exciting moments in the lives of the parents-to-be, and such a change is usually celebrated by throwing a large party, often called a baby shower party.
Baby showers are perfect for those who would like to create memories and share happiness and joy with all their loved ones. They are also an ideal opportunity for others to support your pregnancy by bringing you gifts for the new baby. However, if you don't like the fuss, then the baby showers are not for you.
Baby showers have been popular for many years and are a great way for friends and family to come together to celebrate the parents to be. Baby showers can be very personal parties to have and there is no right or wrong way of having one, but many think there are set rules and decide its not for them.
So I decided to put together this article so you can see that you can have any style baby shower you want, what you might want to know beforehand and even if it is worth having one.
What Is a Baby Shower?
With a new member of the family on the way, it is very common these days that parties in honor of their arrival are being thrown. These parties are called baby showers and are usually held four to six weeks before the baby's arrival.
Baby shower parties are traditionally organized by someone close to the parents-to-be, usually by their very close relative or friend. The point of this party is to share happiness with parents' relatives and friends.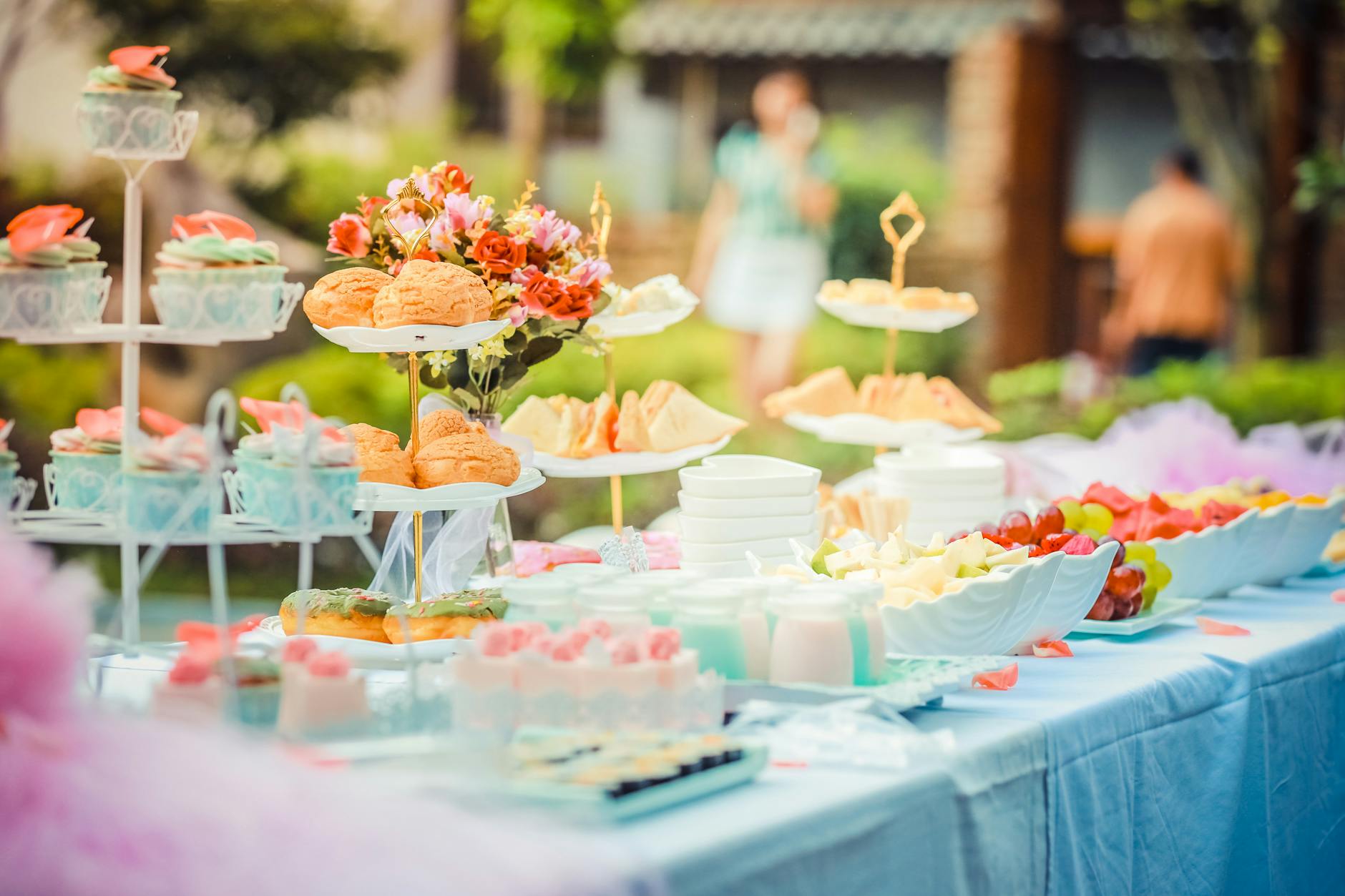 People usually bring items babies will need the most in the first few months of their lives, like baby bottles, soothers, clothes, and diapers. It is very common for guests to bring these small gifts rather than some big ones.
Lately, it has become very usual to hold a gender reveal at the baby shower party simply because it is more convenient for both parents and their guests. Sometimes the parents have an idea of what they want to achieve, so the best way to realize that is to organize the party by themselves.
Suppose gender reveal is supposed to be held together with the baby shower. In that case, the baby shower party can be (and usually is) organized way earlier, mostly around the time parents find out the gender of their baby.
This wasn't part of a traditional baby shower until recently, since the older generations were sticking to the tradition and the rules. And also, when baby showers were invented, finding the gender of the baby was not possible until birth.
But remember that there aren't actually any rules to having a baby shower, you can simply have a party with a baby theme and you can spend time with your loved ones and your partner before the baby arrives.
Many believe that baby showers are just for the carrier/pregnant person to have but it is also very common for everyone to be involved much like a wedding. Remember that there are no strict rules and you can do it however you choose to.
Who Can Have a Baby Shower?
As already explained, baby showers are not a new trend – they have been a tradition for years, so it is natural to think that there are some rules regarding this event. A baby shower party is being thrown for the parents. The old baby shower etiquette says that the parents are not supposed to organize a baby shower.
A baby shower party is supposed to be thrown for the parents, and your close friend or grandmas-to-be usually organizes it. Though it is usually organised for you, there are many instances that you can arrange it yourself or in coordination with a friend or family member.
Anyone can have a baby shower who is expecting, this can be just the carrier/pregnant person, just the partner or both. This can also apply to anyone who is having a baby via adoption, surrogacy or another method, there are no set rules that one of the parents to be have to be carrying to have a baby shower.
You can also change the name of the party to suit what you feel fits with your situation and style. The main premise of a baby shower is that people who love and care for you want to create a nice relaxing day full of good food, drinks and even some games to celebrate the new exciting life joining your family.
As a parent-to-be, you should sit down, relax, and let your friends and family organize everything and surprise you.
What Are the Advantages of Having a Baby Shower?
There are so many benefits to having a baby shower but it all really depends on your personality, what you want from the day and how you are socially and how you want to celebrate.
Lovely Memories OF The Day
The biggest and most intangible perk of having a baby shower is all the memories you will create that day. Baby showers are parties where all your loved ones gather to celebrate this lovely moment with you.
Having a baby is not something that you take for granted, and is surely a huge change in the life of the parents, and their families as well. This is why baby showers were invented in the first place – to mark such a milestone in the lives of the parents-to-be.
Baby showers represent a unique opportunity to celebrate life and pregnancy, and all the changes you have been physically and mentally, together with your partner. Having a fun time with your loved ones is not only going to create memories for you, but it will also create stories you will tell your child.
Just imagine one day showing your kid all the pictures you made that day. Or imagine telling them stories and anecdotes from the party. This is a nice way to show your child how much they were loved even before they were born.
You Can Receive Some Lovely Gifts
Aside from this reason, another big perk is very tangible – it is all the gifts you will receive, that will surely be very helpful. Having a newborn can be quite expensive, especially if you have to buy every single item by yourself.
While gifts aren't necessary or expected people often like to give a little something to the parents to be for the new arrival and member of the family. This can be anything from a piece of clothing to something to play with etc.
It's A Chance To Have Celebrate With People You Care About Before The New Arrival
One of the things I really enjoyed about my baby shower was the chance to see friends that lived far away and spend time with them along with seeing other friends and family.
If you are very family orientated or haven't had chance to see friends and family properly it can be a great excuse to get people together and spend quality time together.
It can also be a great time to spend time with your other half away from work and responsibilites before the baby arrives. You can realy relax and enjoy time together.
What Are the Disadvantages of Having a Baby Shower?
Along with many lovely advantages to having a baby shower there are also some drawbacks. These can come in a number of ways and I may not have covered them all but these are just some of the ways that you may find a baby shower isn't worth it for you.
It May Not Be What You Expect
Sometimes the parents-to-be have an idea of what they would like the baby shower to look like, and the actual realization may not meet their expectations. This is when the parents get a little bit disappointed because they wanted every detail to be absolutely perfect for their new baby.
When somebody else is organizing a baby shower for you, this is a very real possibility. This is why many modern-day parents are taking over the baby shower organization, so they can be in control of everything.
If you stick to the tradition, then you must know that baby showers are usually held only for the first child. Because many people found this unfair, now it is not unusual to see people throwing parties for a second or third child.
In this situation, the first baby shower is usually the biggest one, and people tend to be more attentive and to bring more useful stuff when they are having their first baby. When you are expecting your second child, it is assumed that you already have the most important stuff and that you are "in training", so don't expect the gifts to be as big as the first time.
It Can Draw A Lot Of Attention To You
Baby showers are based around the parents to be so if you feel like you don't want the attention or feel uncomfortable having a lot of people just there for you and your partner you may feel like a baby shower isn't for you. There are aways around this, you can simply have a select amount of people there that you feel more comfortable with.
If you feel you are going to be overwhelmed or out of your comfort zone with many people around you or even feeling the center of attention then it may not be for you.
You Can End Up With A Lot Of Stuff
Along with having a baby shower and spending time with friends and family you may experience many bringing gifts for you and your baby. This isn't compulsary and you can even ask people to not bring gifts but there is still a high chance people will bring gifts and want to get you something.
This can be lovely as you may get some items you hadn't yet bought or that you might find useful. Alternatively, you may find that you get a lot of stuff you didn't want or need. This can be overwhelming especially if you already have what you want and if you are a minimalist.
While you can donate these items or return them, it can often come with pressure to use them or show the giver you are using them and this can cause unnecessary stress.
Are Baby Showers Expensive?
The answer to this question depends on several factors and cannot be given straight away. First of all, if you are the parent and someone organizes a baby shower for you, then from where you stand, the baby shower didn't affect your budget at all.
Baby showers can often get expensive but they don't have to be. Baby showers can be as expensive as you make them so you can completely control what the budget is and what you are spending the budget on.
The biggest expenses come from food & drink and a venue, if you chose to host a baby shower at a paid venue or pay per person for a meal this can get very expensive.
On the other hand you can do a lot of things to reign in the expense and have just as much of an enjoyable day with very little costs.
How To Save Money On Throwing A Baby Shower?
As I said above, you can completely control the spending on a baby shower. You can find some really great deals on games, decorations and even little favours for guests in high street stores and even supermarkets so you don't have to spend a fortune to create something wonderful.
Hold The Party At A House Or Free Venue
One way to save money on a baby shower is to have it at someone's house. Here in the UK, it isn't unfamiliar for those to have a baby shower at someone's house that can accommodate the people invited.
Garden parties in spring and summer are a great way of being able to use more space and have a nice setting without having to pay a lot of money. This also gives guests more space to move and spread out while attending the baby shower.
You can create a lovely setting for an afternoon tea style baby shower or something much less formal like a BBQ within a house whether it be your own, your parents or in laws or even a friends.
Re-Use /Recycle Decorations
There are so many people who will buy a lot of decorations and balloons that will all go to waste after the day is done so look at saving money on decorations by buying second hand, recycling from a friend or neighbour or even look at Facebook Marketplace for second-hand decorations.
You can also find loads usually in recycle shops and charity shops that are selling old stock that is cheap and just as good as you can find full price.
Make Your Own Decorations
Something fun is always making your own, you can do this by making your own bunting from fabric or paper (though the paper is cheaper and easier to recycle). You can make a number of fun decorations and some you could even make into a game.
There are plenty of Pinterest tutorials that you can follow to make super cute fun decorations.
Buy In Bulk
One of the bigger costs to a baby shower along with the venue is the food and drink. We found places such as Morrisons, Costco and speciality cateres are better for getting nice quality food for a cheaper price.
Costco and Morrison's have platters of wraps, sandwiches, nibbles such as pies, sausages rolls and even special platters of cake that you can buy in store or order for special events.
You can even do this for other things from meal based items or even BBQ food if you plan to have one. If you don't mind making your own food or putting together your own platters you can save a lot of money and cater to a much wider audience on the day.
Presenting a buffet for the baby shower may be better as it often works out cheaper, easier to put together as you can cater to more tastes and allergies and you can let guests pick and choose what they want to eat on the day. This also helps if you are having children at the baby shower as you don't have to have a structured meal or time to eat.
Is A Baby Shower Worth It?
The answer to the question is baby shower worth it really depends on what you want and how you feel about having one. For sure it is a nice way to celebrate with your loved ones, and for you all to come together.
Family members that live scattered across the country will appreciate this chance to come together and celebrate the new baby. It is a great opportunity for everyone to gather at one place and enjoy a good family time.
However, this is only considered to be a perk if you are an extrovert and like the noise, parties, and gatherings. If you don't like to be in the center of attention, then the baby shower is not good for you.
There are some people who don't like to draw attention to their pregnancy and would rather keep them for themselves and their closest ones. Organizing a baby shower for those persons would be a waste of time and money since they would not be comfortable at their own party.
This is why the baby showers are usually organized by someone who is very close to the parents because that person knows them well and can estimate what they would or wouldn't like.
In the end, each case is very individual, so make sure you make the right judgment and don't put too much pressure on the parents-to-be by putting them in the spotlight with a baby shower party.